Mwalimu Nyerere: Pan African Nationalist
Authors: Ng'wanza Kamata
By OLS Admin
This, Ng'wanza Kamata's lecture, titled Mwalimu Nyerere: Pan African Nationalist or Nationalist Pan African? was delivered in November 2015. In this lecture, he traces and compares the origins of Nkrumah's and Nyerere's Pan-African thought, his main thesis being that whereas Nkrumah arrived at territorial nationalism via Pan-Africanism, Nyerere's Pan-Africanism was through territorial nationalism.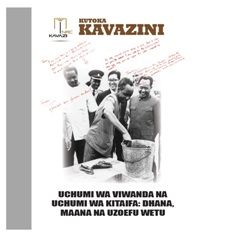 Uchumi wa Viwanda na Uchumi wa Kitaifa
Authors: Ng'wanza Kamata
By OLS Admin
Kijitabu hiki kina nyaraka mbalimbali zikiwemo hotuba za Mwalimu Nyerere zinazojadili mafanikio na matatizo ya kujenga viwanda baada ya uhuru na baada ya Azimio la Arusha. Tuzisome kwa makini, tuzitafakari hoja mbali mbali zilizomo humu katika muktadha huu mpya wa nchi yetu na hali ya dunia ilivyo sasa.